In the past, each of our projects have been dedicated to our families and friends. When it came time to decide who to dedicate this album to there was, without hesitation, only one choice.
The band members unanimously dedicate this project to Tim Ward.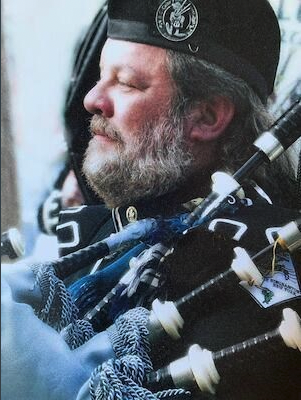 It is an understatement to say that Tim Ward, formerly the owner of McGirks Irish Pub in
Binghamton, was a friend of the band. Tim loved music of all kinds and supported both the music of the region as well as seeking out great acts in the Celtic/Irish Genre from all over to support and introduce to audiences. 
Tim's support of Kilrush was unparalleled and his friendship will not be forgotten. Tim's
enthusiastic support of Kilrush was shared with his patrons. The band fondly recalls playing to a packed house over the years often ending late into the night. Then Tim would come sit at a table up front, order a round of drinks and request more, smiling and singing along. 
Tim was also a beloved member of the Broome County Celtic Pipes and Drums and the host of his own Celtic festival held yearly in Chenango Bridge.
Sadly, Tim Ward passed away at Sloan Kettering Cancer Center in June 2020. But his legacy lives on at McGirks Irish Pub. This one is for you Tim!