In the past twenty years, Kilrush has recorded five CD projects, all of them different in many ways but also all connecting the band's history and progression from a traditional Irish band to the more contemporary sound of today.
On This Shore
The first CD, "On This Shore", was recorded and released in 2006. Recorded at the Soundworks music store in Horseheads NY, it features some of the very first versions of what audiences can hear now. The CD captures the time when Kilrush was still very traditional sounding, many songs featuring flute, guitar, and even the bones.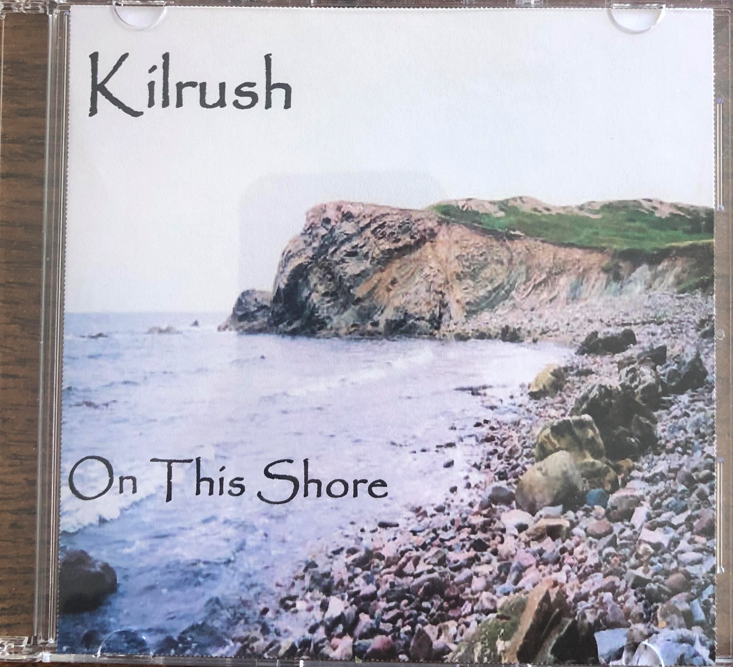 14 tracks long, the CD includes:
Star Of County Down
Black Velvet Band
Farewell Nova Scotia
My Friend John Morrison ( by renowned fiddler Brenda Stubbert )
Maid Behind The Bar/ Mason's Apron/ Sean McGuire's
Appearing on "On This Shore" is the original Kilrush lineup of Tim Sanphy, Dirk Sears, Tim Madigan, and Chris Sherwood as well as Tim Sanphy Sr and Maria Sanphy. It was recorded live in one day. Notably, this CD resulted in the first radio airplay for Kilrush when "The Maid Behind The Bar" was featured on Pat Kane's weekly radio show, "Somewhere West O'Clare". This was an especially great moment for Kilrush as not only were they getting radio airplay but it was from Pat, a dear friend and musical influence for the band. That particular set can still be heard in the present Kilrush show, albeit a more contemporary version.
"On This Shore" was a limited release of 200 CDs and is no longer available.
Keltoi Anam
In 2008 Kilrush released their second CD, "Keltoi Anam", which translates to something like "Celtic Spirit". The cover art is an adaptation from the Book of Kells, featuring the Celtic wolf representing "neither collar nor crown", which has remained the band's logo since.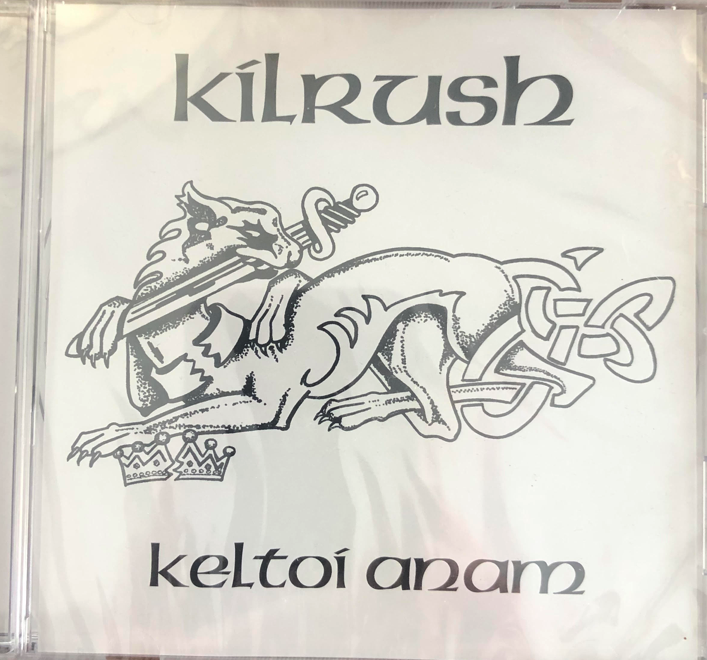 This CD was also recorded in one session at the home of friend friend Matt D'Ortana in Athens, PA. This CD features Tim Sanphy, Dirk Sears, Tim Madigan and Chris Sherwood. Listening to this CD you'll note the beginning of the band's transition away from a strictly traditional sound as they began to incorporate more percussion such as the bodhran and congas. Keltoi Anam contains 10 tracks including:
Haul Away Joe/ Drunken Sailor
She Moves Through The Fair/ Wind That Shakes The Barley
Leaving Of Liverpool
Green Fields Of Rossbeigh/ New Policeman ( as arranged by Kevin Crawford )
"Keltoi Anam" was sent to Marc Gunn's "Celtic Music Podcast" for review and consideration for airplay. A review by Catherine Tully includes this excerpt:
"Kilrush is a group of gentlemen who enjoy what they do when they get together and make music; it shows. Something about them has the fun vibe of the Kingston Trio— for those of you that have heard of that band before. A camaraderie isn't easy to come by, but it is here on the CD in each and every track."
Notably, after being played on Gunn's show "The Green Fields of Rossbeigh/ New Policemen" was voted #1 by the listeners for July 2008 and #3 for the year 2008 overall.
"Keltoi Anam" as a CD is still available in limited numbers as well as available on iTunes.
Lily's Ghost – EP
In 2010 Kilrush released a 6 track EP, "Lily's Ghost". The lineup for this CD is Tim Sanphy, Dirk Sears, Colin Carpenter, Dan Folkers, Marissa Ruper, and Padraic O'Hare. It was recorded at Big Time Studios in Interlaken NY with post production work done by Andy Wheeler.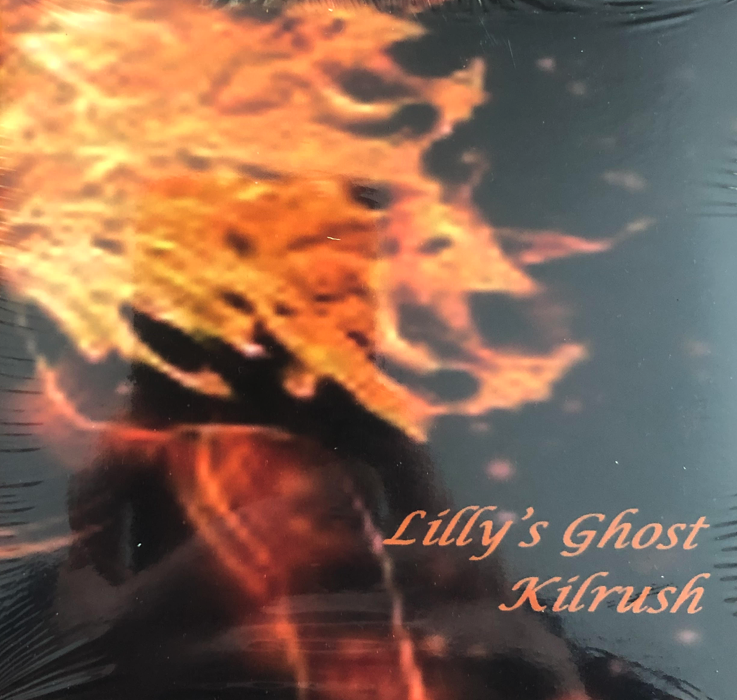 Again, you can hear the evolution of the band's sound with the title track as well as the beginnings of some of the sets we still play. This disc includes:
Two Coneeleys ( Christy Moore/ Wally Page)
Hundred Pipers
Lily's Ghost
This EP is historically significant, as it is the first audio recording of a Kilrush original song, the title track. It was released in a limited number and is no longer available.
Spree
The band's next and most recent CD proved to be quite an undertaking. Work on "Spree" actually began sometime in 2012 and was worked on in several locations before finding a home at Basement Audio in Binghamton NY. It was officially released in August 2015 with a CD release party in Corning NY.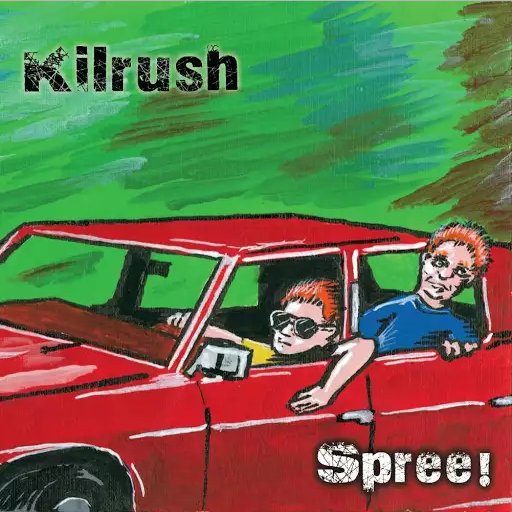 "Spree" is Kilrush's first all original release. 10 tracks long, it features songs written by Tim Sanphy and in addition to Tim features Todd Allen, Padraic O'Hare, Dave Rice ( who also mastered and engineered it ) as well as appearances by Chris Sherwood and Cam Meyers. The cover art was done by Pete Rosplock. In addition to fan favorite, "Banks Of The Margaree", the CD features tracks such as:
Wild As The Heather
Devil Has My Back Pack
Vice
Walk Away
"Walk Away" is the only song on Spree not written or arranged by Kilrush. It was sent to the band by musician Shane Byrne of Ireland to see what they could do with it. Also on "Spree" is a track, "Mason's Apron Set" which contains two of the instrumentals on our first CD; "Mason's Apron" and "Sean McGuire's". It's interesting to listen to the two tracks back to back, an example of the band's evolution if ever there was one. Not to mention evidence they remain true to their roots at the same time.
"Spree" is available online as well as at all Kilrush shows.
Kilrush
The band's newest self-titled album was released in September 2022. For this one, the band returned to their roots with some new instrumental arrangements as well as songs performed live for well over a decade.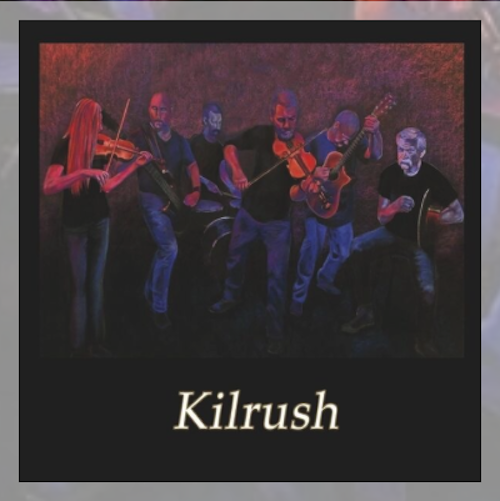 The album was recorded over a span of two years at Basement Audio in Binghamton NY. The track listing is as follows:
N17
Killavil/ Swallowtail/ Sliabh Russell
Streets of London
Josefin's Waltz/ Teetotalers/ Father Kelly's
Ride On
Monaghan / Dunmore Lasses
Ten Penny Bit/ Kevin McHugh's/ Maid In The Meadow
Wild Mountain Thyme
"Toss The Jam"
More information about each tracks, as well as the band's two music videos for this album, can be found here.